Sister can't have pets at her apartment. I find this to be sad news. So I made her some pet rocks to fill that void in her life. Originally I was just going to stick googly eyes on a rock. But, well, they sort of... evolved. They're classy like that.
Meet Earnest and Earnestina.
They enjoy sipping brandy, a good polo match and visiting art galleries to have pretentious conversations about the paintings. They're fancy.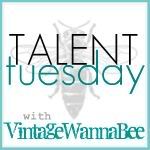 And by Tuesday, I mean Friday. Because that's how my week has been.